METRAHIT EBASE 60000 Digits, 4 6/7 Place Multimeter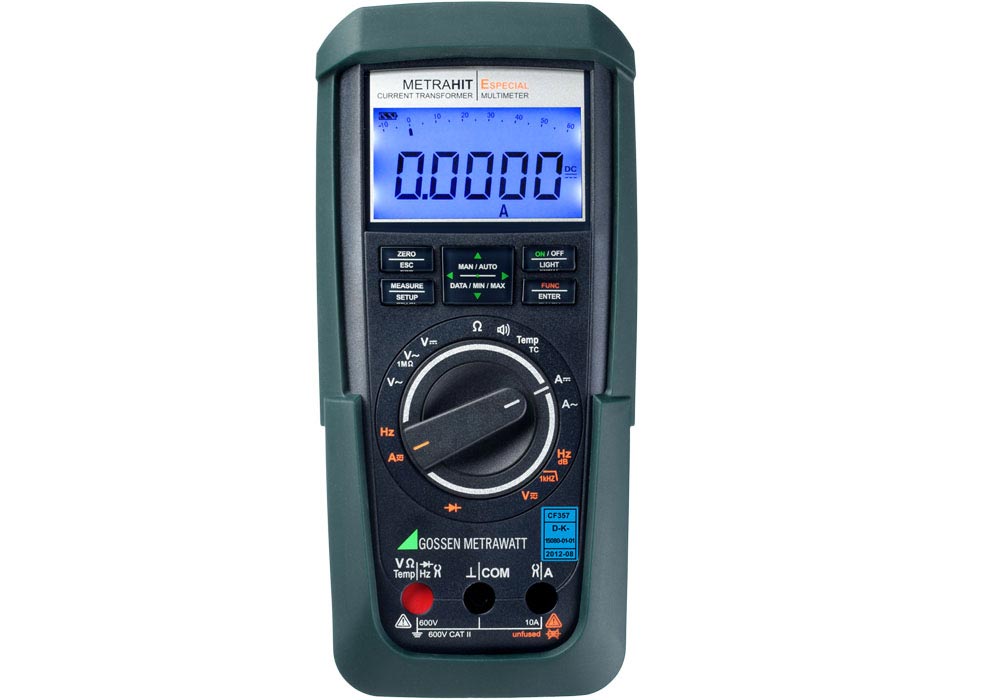 close
Please fill in all fields.
EOL/obsolete, not available anymore
Benefits
60000 digits, 4 6/7 place TRMS multimeter.
21 multimeter functions.
TRMS AC, AC+DC measurement up to 20 kHz for voltage and current.
Gossen Metrawatt 6000 Digits Multimeter METRAHIT EBASE
The 4 6/7 place high-end TRMS digital multimeters METRAHIT EBASE, ESPECIAL, ETECH and EXTRA have a resolution of 60000 digits They are rugged and reliable with housings made of impact-resistant plastic and have an infrared interface to the PC for data exchange and parameters configuration.
Resolution 60000 digits, 4 6/7 place, TRMS AC, AC+DC function.
3 connector jacks with patented automatic blocking sockets (ABS), fuse.
DAkkS calibration certificate included in scope of delivery.
Large, illuminated display with 15 mm character height.
Voltage measurement with basic accuracy of 0.05% (VDC).
Measuring category: 1000 V CAT III and 600 V CAT IV, IP 52 protection.
IR interface for system integration.
15 multimeter functions.
Higher resolution and IR interface
Measurement functions V (AC, DC, AC+DC), A (AC, DC, AC + DC, with clamp), Ω, °C, dB, continuity, diode, Hz (V, A).
Current measurement via current clamp sensors with adjustable transformation ratio (clip) of 1 mV:1 mA to 1 mV:1 A.
Model Overview
| | | | | |
| --- | --- | --- | --- | --- |
| Model | | | | |
| Article No. | | | | |
| Resolution | 60000 digits, 4 6/7 place | 60000 digits, 4 6/7 place | 60000 digits, 4 6/7 place | 60000 digits, 4 6/7 place |
| Protection | 1000 V CAT III and 600 V CAT IV, protection IP52 | 600 V CAT II, protection IP52 | 1000 V CAT III and 600 V CAT IV, protection IP52 | 1000 V CAT III and 600 V CAT IV, protection IP52 |
| Functions | TRMS AC, AC+DC | TRMS AC, AC+DC | TRMS AC, AC+DC | TRMS AC, AC+DC |
| Voltage measurement | Basic accuracy ±0.05% (VDC) | Basic accuracy ±0.05% (VDC) | Basic accuracy ±0.05% (VDC) | Basic accuracy ±0.05% (VDC) |
| Clip function | yes | yes | yes | yes |
| Frequency measurement | 300 kHz | 300 kHz | 300 kHz | 1 MHz |
| Duty cycle | - | - | - | yes |
| Temperature °C/°F | TC (K) | TC (K) | TC (K)/RTD | TC (K)/RTD |
| Power pack connector socket | - | - | - | yes |
| IR interface | yes | yes | yes | yes |
| Daalogger | - | - | - | yes |
| L0 voltage with low-pass filter | - | yes | yes | yes |
| Rubber holster | yes | yes | yes | yes |
| HC20 case | yes | yes | yes | yes |
| TRMS bandwidth (VAC | 1 kHz | 20 kHz | 20 kHz | 100 kHz |
| TRMS current measurement | - | 0.1 mA...10 (16) A | 1 µA...10 (16) A | 10 nA...10(16) A |
| Capacitance Measurement | - | - | yes | yes |
| Included | KS17-2 measurement cable set, two 1.5 V AA batteries, DAkkS calibration certificate, rubber holster, HC20 hard case | KS17-2 measurement cable set, two 1.5 V AA batteries, DAkkS calibration certificate, rubber holster, HC20 hard case | KS17-2 measurement cable set, two 1.5 V AA batteries, DAkkS calibration certificate, rubber holster, HC20 hard case | KS17-2 measurement cable set, two 1.5 V AA batteries, DAkkS calibration certificate, rubber holster, HC20 hard case |