ME-AB-D78 Terminal Blocks for 78-pin D-Sub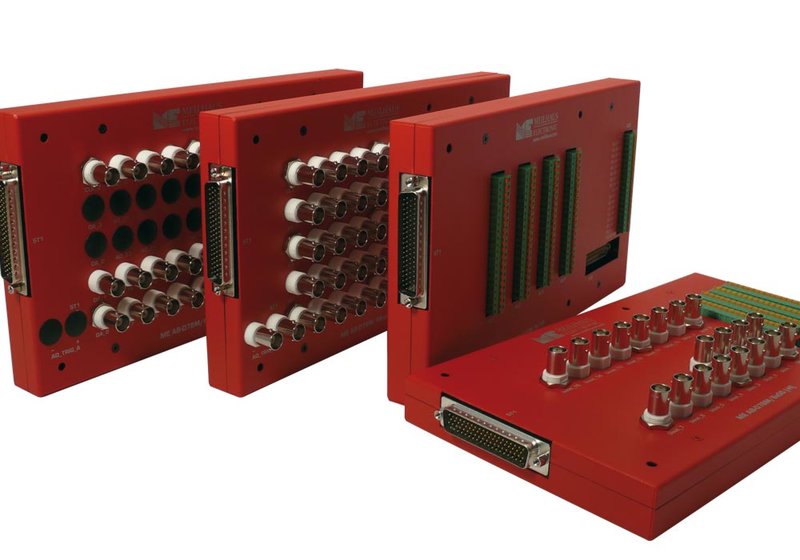 close
Please fill in all fields.
78-pin Terminal Blocks for ME Series and others.
Reliable, robust connectivity for DAQ/control/interface boards with 78-pin D-sub. Models with terminal stripes or BNC, DIN-rail mountable, wall-mountable or as a desktop box. For permanent or variabel connectivity.
Models with pluggable terminal stripes: Easy to configure. Good solution for permanent as well as flexible connectivity for quick changes.
Models with prototyping/"breadboard" area for user circuitry, eg. analog signal-conditioning.
Models with reliable BNC for analog inputs and outputs.
DIN-rail mountable card carrier or robust metal boxes for desktop or wallmountable.
Model Overview - select the desired model with "Quantity/Model"!
Model
Connectors
For...
For 78-pin D-sub
ME AB-D78M
78-pin D-sub male connector to integral terminal stripes, DIN-rail mountable
All models with 78-pin D-sub, versions PCI-Express, PCI, CompactPCI/PXI:
ME-8100,
ME-6100, ME-6000
ME-5810, ME-5100,
ME-4680, ME-4670, ME-4660,ME-4610,
ME-1600,
ME-1400,
ME-1000,
ME-630 and others
ME AB-D78M/S
78-pin D-sub male connector to pluggable terminal stripes, metal box
ME AB-D78M/S-H
78-pin D-sub male connector to pluggable terminal stripes, DIN-rail mountable
ME AB-D78M/P-H
78-pin D-sub male connector to prototyping/"breadboard" area and IDC
ME AB-D78M/4660
78-pin D-sub male connector to pluggable terminal stripes and BNC, metal box
ME-4660,
ME-4610
ME AB-D78M/4660-H
78-pin D-sub male connector to pluggable terminal stripes and BNC, DIN-rail mountable
ME AB-D78M/4000
78-pin D-sub male connector to pluggable terminal stripes and BNC, metal box
ME-4680, ME-4670
(can also be used withME-4660, ME-4610)
ME AB-D78M/4000-H
78-pin D-sub male connector to pluggable terminal stripes and BNC, DIN-rail mountable
ME AB-D78M/6000
78-pin D-sub male connector to pluggable terminal stripes and BNC, metal box
ME-6100, ME-6000
ME AB-D78M/6000-H
78-pin D-sub male connector to pluggable terminal stripes and BNC, DIN-rail mountable
ME AB-D78/IDC
78-pin D-sub male to IDC, directly plugged on to board's connector
ME-5100