OR8 External Optocoupler and Relay Boards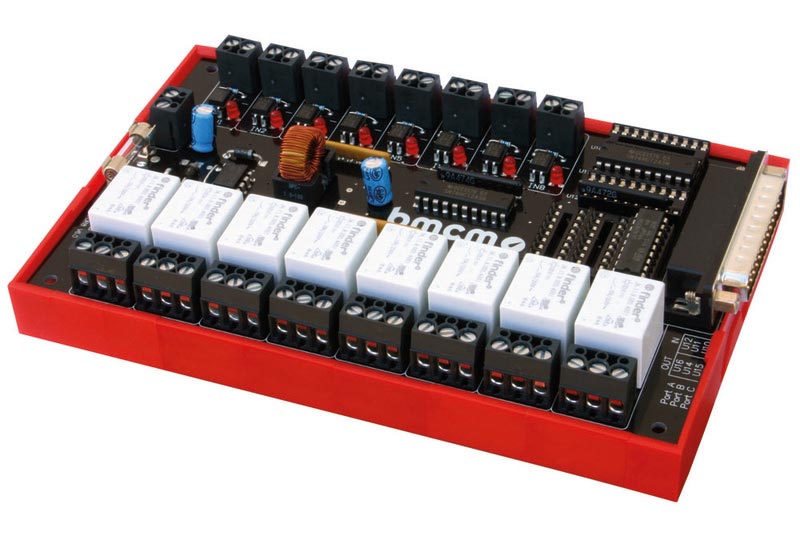 close
Please fill in all fields.
External optocoupler and relay boards OR8 expand digital-I/O chanels.
The optocoupler and relay boards OR8 are ideal to monitor and control digital states. The digital inputs and outputs can be connected directly via a screw-clamp connection. The eight optocouplers on the OR8 convert digital inputs in the voltage range of 5...30 V into TTL signals. Via relays, the OR8 switch with up to 6 A. Eight LEDs each dedicated to the inputs and outputs signalize if a channel is high or low.
8 relay outputs (max. 60 V/6 A).
8 optocoupler inputs (5..30 V, max. 17 mA).
Power supply: 5 V, 9...40 V.
Status indication via LEDs.
Screw terminals.
Incl. DIN rail carrier with bracket.
Model Overview
| | | | | | |
| --- | --- | --- | --- | --- | --- |
| Model | Relay outputs | Optocoupler inputs | Power supply | Control lines | Size (mm) |
| R8 | 8, max. 6 ADC, response time 10 ms, live period 100000 cycles | - | 5 VDC, max. 0.7 ADC, max. 3.5 W | 8, TTL (25-pin D-sub male) | 160 x 100 x 20 |
| OR8 | 8, max. 6 ADC, response time 10 ms, live period 100000 cycles | 8, 5..30 V, max. 17 mA, optocoupler response time <1 ms | 9...40 VDC or 5 VDC, max. 4 W | 8, TTL (25-pin D-sub male) | 167 x 105 x 33 |