PicoScope 6402C 4-Channel USB PC Oscilloscope, 250MHz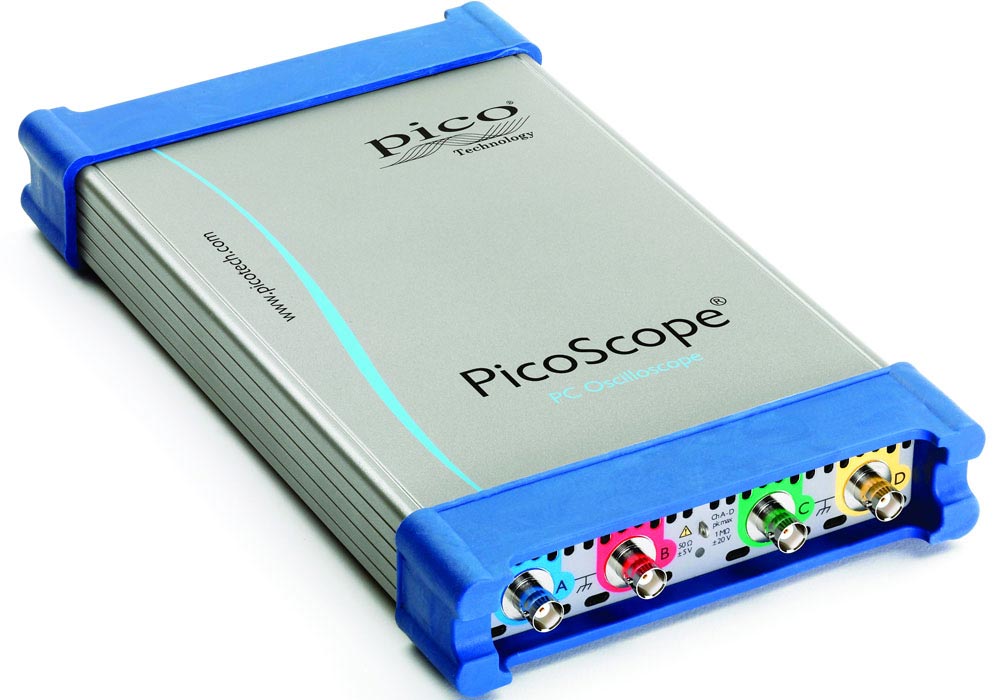 EOL/obsolete. Recommended replacement product: ▸PicoScope 6000E series
Benefits
Highend USB PC oscilloscope up to 250 MHz.
With USB 3.0 SuperSpeed interface.
4 channels, 4 probes included.
250 MHz Highend USB PC Oscilloscope - with SuperSpeed USB 3.0!
PicoScope 6402C oscilloscopes offer 256 MS ultra-deep memory for long time capture at high sample rates. Hardware acceleration, coupled with a SuperSpeed USB 3.0 interface, means that the PicoScope 6402C series oscilloscopes can maintain fast update rates, even with long memory enabled. They offer realtime sample rates up to 5 GS/s and a high bandwidth of 250 MHz.
PC oscilloscopes with 4 channels, metal housing. Incl. carrying case, Windows software and probes.
5 GS/s sample rate (1 channel) or 2.5 GS/s (2 channels), 1.25 GS/s (3 or 4 channels).
250 MHz bandwidth.
Deep buffer memory up to 256 MS.
Resolution 8 bit (12 bit enhanced).
Versatile mathematics, statistics, automatic measurement and trigger functions standard, included in the PicoScope software.
Mask limit test standard.
Serial bus decoding standard: 1-Wire, ARINC 429, CAN, DCC, DMX512, Ethernet 10Base-T and 100Base-TX, FlexRay, I²C, I²S, LIN, PS/2, SENT, SPI, UART (RS232/RS422/RS485), USB protocol.
Integrated function generator.
Integrated spectrum analyzer with 250 MHz.
SuperSpeed USB 3.0 interface.
Incl. the versatile PicoScope6 software for Windows and Linux as well as the SDK/software developer kit for programmers/developers.
Multiple language support, incl. German.
Model Overview
Model
Channels
Bandwidth
Rate, 1 channel*
Buffer memory
Max. buffer segment
Function generator
Arbitrary waveform generator
USB
PicoScope 6402C
PP884
4
250 MHz
5 GS/s
256 MS
250,000
DC...20 MHz
(sine, square, triangle, DC)
-
-
3.0
PicoScope 6402D
PP885
4
250 MHz
5 GS/s
512 MS
500,000
Ramp, sinc, Gauss, halfsine, white noise, PRBS
64 kS buffer size, 200 MS/s rate, 12 bit, 20 MHz bandwidth
* 5 GS/s (1 channel), 2.5 GS/s (2 channels), 1.25 GS/s (3 or 4 channels), max. equivalent time sampling (ETS) 50 GS/s.
Included: USB oscilloscope, 4 probes, USB cable, external power supply, carrying case, software/user manual (download).
Software:
Windows: PicoScope for Windows. Software development kit (SDK). Windows 7, 8 or 10 recommended.
Mac OS X: PicoScope for Mac OS X. Software development kit (SDK). Mac OS X 10.9 or 10.10 recommended.
Linux: PicoScope for Linux. Software development kit (SDK). For information on supported Linux distributions, please ask.
The SDK example code shows how to interface to third-party software packages such as Microsoft Excel, LabVIEW and MathWorks MATLAB and programming languages like C, C#, C++, and Visual Basic .NET.