GPIB Cable with Straight Connector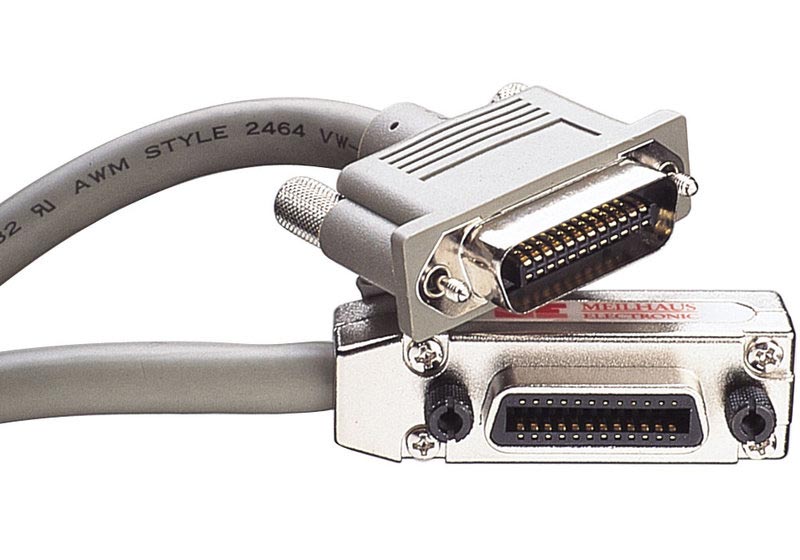 close
Please fill in all fields.
Benefits Series 12401 IEEE488 Cables "Straight Access"
Use these cables for GPIB connectors difficult to access.
Straight GPIB standard connector on one side (similar to D-sub).
Other side with standard piggyback GPIB connector.
For Reliable GPIB Connectivity for Connectors Difficult to Access
GPIB (also known as IEEE488, HPIB or IEC-Bus) still is the classic standard way to bring measurement data from your instruments to a PC. With tested GPIB high quality cables from Meilhaus Electronic you make this connection reliable, EMC compliant and low cost! The 12401 series have a standard piggyback GPIB connector on one side and a straight GPIB standard connector at the other side (similar to D-sub type).
Multiple shielding for high noise immunity.
Safe data transmission with twisted-pair cable.
Robust and light with piggyback connectors and aluminum housing.
Length from 0.5 to 20 m.
Cables with a straight connector at one side for GPIB connections that cannot be accessed with a standard GPIB connector.
Versatile Connectivity, GPIB Cables Available with...
| | |
| --- | --- |
| Model | Description |
| ▸900.103.7 | Standard connectors |
| ▸IEEE488 DeLuxe | Cable leaves the connector at a slight angle of 30° |
| ▸12401 | Straight connector at one side (similar to D-sub type). Good solution, if a GPIB interface is difficult to reach, for example interface boards in PCs slots |