DAQami Software for RedLab Series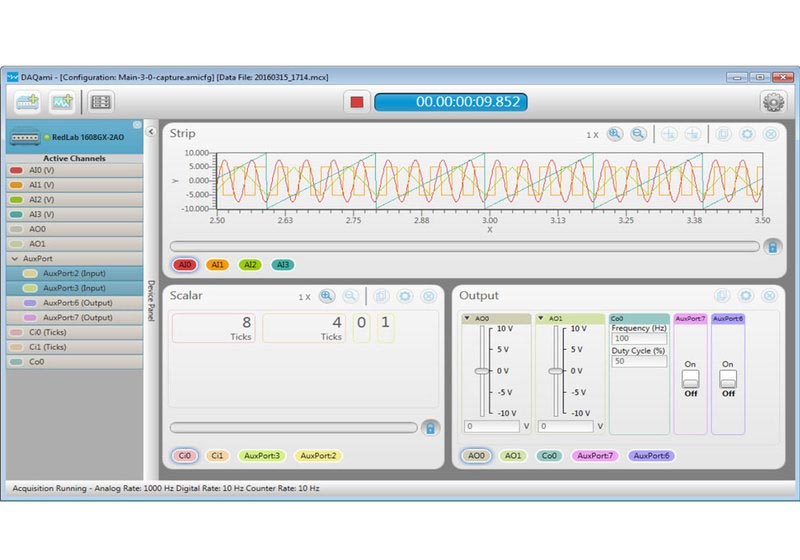 close
Please fill in all fields.
Benefits
Control the RedLabs easily - no programming required.
Configuration, acquisition, display and logging of measurement data.
Scalar, strip, and block displays.
DAQ software for the RedLab series modules.
DAQami for Windows is a out-of-the-box software to easily acquire, view, and log data with the RedLab serie DAQ modules. Easy-to-use, without programming. With menues in German or English (depending on Windows settings)!
Out-of-the-box application to quickly and easily acquire, view, and log data with the RedLab Series.
Acquires data from analog input, digital input, and counter input channels
Configure device, channel, acquisition, and display options.
View analog input or thermocouple data on any combination of scalar, strip, and block displays.
Export acquired data to a .csv file.
Customize display size, location, and channel/trace colors.
Save the configuration to a file for later reuse and modification.
Versatile online help.
Supported operating systems: Windows 10/8/7/Vista, 32-bit or 64-bit.
Supports multiple devices for concurrent data input and output applications.
Acquire and log virtually unlimited samples from analog, digital, and counter input channels.
How to order DAQami:
Simply place this article "DAQami" into your shopping basket as usual and send the order to Meilhaus Electronic. Select the payment you prefer.
You will asap reveive an e-mail with an unlock code.
You can download DAQami (test version) from our download section and unlock it.
Can be used with the models:
RedLab E-1608
RedLab E-DIO24
RedLab E-TC
RedLab 1008
RedLab 1024LS, HLS
RedLab 1208LS, FS, FS-Plus
RedLab 1208HS, 1208HS-AO, 1208HS-4AO
RedLab 1408FS, FS-Plus
RedLab 1608FS, 1608FS-Plus
RedLab 1608G, 1608GX, 1608GX-2AO
RedLab 201, 204
RedLab 2408, 2408-2AO
RedLab 2416-4AO
RedLab 3000 Series
RedLab TC incl. CF*, AI, (WLS*)
RedLab TEMP incl. CF*, AI, (WLS*)
* DAQami only supports the device when connected by USB to a PC. Wireless and data logging modes are not supported.
Note: Some device features must be configured using InstaCal. For multi-sensor temperature devices, this includes configuring RTD, thermistor, and semiconductor measurements. For Ethernet devices, this includes the connection code, alarm options, and other network settings.