PicoScope 4225A 2-Channel Automotive Oscilloscope, 20MHz, 12bit, USB 3.0 and Kits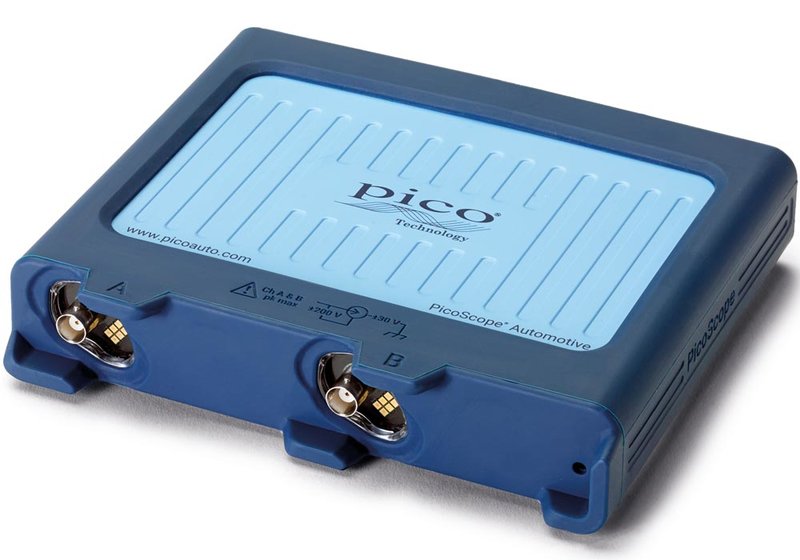 close
Please fill in all fields.
Benefits of the PicoScope 4225A 2-Channel Automotive Diagnosis Oscilloscope
2-channel USB 3.0 PC oscilloscope for automotive applications.
Available as oscilloscope without accessories or in various bundles/kits with automotive accessories.
Including the versatile Pico Automotive software.
PicoScope 4225A 2-Channel Automotive Oscilloscope, 20 MHz, 12 bit, USB 3
The 2-channel PicoScope 4225A automotive oscilloscopes have a bandwidth of 20 MHz and a resolution of 12 bit (16 bit in enhanced mode). They are equipped with professional software that enables diagnostics on cars, motorcycles or commercial vehicles. The software is packed with automotive special knowledge, which makes your work in the field as easy as possible! To get a complete bundle, simply order a kit including accessories for test and measurement of vehicles.
2 channels.
High 12 bit resolution.
Sample rate up to max. 400 MS/s (200 MS when using both channels).
250 MS buffer memory.
Serial decoding for CAN, CAN FD, FlexRay, etc.
Supported by the proven PicoScope automotive software.
USB 3.0 SuperSpeed.
As a single device or in various packages/kits with accessories.
Model Overview - Automotive Oscilloscopes - Single Units
Model
PicoScope 4225A
PicoScope 4425A
PicoScope 4823
PQ173
PQ174
PQ185
Channels
2
4
8
Vertial resolution
12 bit (16 bit in enhanced resolution mode)
DC accuracy
1% of full scale (2% in 50 mV range)
±1% of full scale ±300 µV
Input sensitivity
10 mV/Div...40 V/Div
2 mV/Div...10 V/Div (10 vertical divisions)
Input ranges (full scale)
±50 mV...±200 V in 12 ranges
±10 mV...±50 V in 12 ranges
Input impedance
1 MΩ in parallel with 24 pF
1 MΩ in parallel with 19 pF
Input type
Floating, single-pole connector PicoBNC+
BNC
Input coupling
AC/DC software selectable
Input overvoltage protection
±250 V (DC+ACpeak)
±100 V (DC+ACpeak)
Buffer memory
250 MS, shared between active channels; waveform buffer: Up to 10,000 waveforms
256 MS shared between active channels
Timebase ranges
5 ns/Div...5000 s/Div
20 ns/Div...5000 s/Div
Bandwidth (-3 dB)
20 MHz (10 MHz in ±50 mV range)
20 MHz (10 MHz in 10 mV and 20 mV ranges)
Max. sample rate
Single-shot: 1 channel in use: 400 MS/s, 2 channels in use: 200 MS/s, 3 or 4 channels in use: 100 MS/s
Real-time: 1...4 channels in use - 80 MS/s; 5...8 channels in use - 40 MS/s; continuous streaming mode: 20 MS/s using PicoScope 6 software; 80 MS/s per channel using supplied API, 160 MS/s total across all channels (PC-dependent)
Trigger
Sources
All input channels
Trigger types
Basic: Automatic, repeat, single, none; enhanced: Rising edge, falling edge, edge with hysteresis, pulse width, runt pulse, dropoutl, with window, logic
Pre-/post-trigger
Max. pre-trigger dealy up to 100% record lenght; max. post-trigger delay up to 4 million samples
Spectrum analyzer
Frequency range
DC...20 MHz
Display modes
Magnitude, peak hold, average
Signal generator
Standard signals
-
Sine, square, triangle, DC voltage, ramp, sinc, Gaussian, half-sine, white noise, PRBS; standard signal frequency DC...1 MHz; sweep modes up, down, dual; voltage range ±2 V
Arbitrary waveforms
-
Update rate 80 MS/s, buffer size 16 kS, resolution 14 bit
General
Environmental
Operating temperature 0...40°C (15...30°C for the quoted accuracy); rel. humidity 5...80%, non-condensing; storage temperature -20...+60°C; rel. humidity 5...95%, non-condensing
Operating temperature 0...45°C (20...30°C for the quoted accuracy); rel. humidity 5...80%, non-condensing; storage temperature -20...+60°C; rel. humidity 5...95%, non-condensing
Dimensions (mm)
190 x 160 x 40; approx. <900 g
190 x 160 x 40; approx. 550 g
Interfaces
USB 3.0 SuperSpeed(compatible with USB 2.0); powered from USB
Model Overview - Automotive Oscilloscope Kits
Kit
Description
Oscilloscope included
Accessories included
PQ175
2-channel starter kit in cardboard box
PicoScope 4225A
1x PA050 cardboard box
2x TA003 small alligator clip (black)
2x TA004 small alligator clip (red)
1x TA155 USB 3.0 cable (blue) 1.8 m
1x TA157 battery clip (red)
1x TA158 battery clip (black)
2x TA161 flexible back-pinning probe (black)
2x TA162 flexible back-pinning probe (red)
1x TA404 PicoBNC+ 3 m measurement lead, permanent GND, 4 mm (blue)
1x TA405 PicoBNC+ 3 m measurement lead, permanent GND, 4mm (red)
PQ176
4-channel starter kit in cardboard box
▸PicoScope 4425A
see ▸PicoScope 4425A
PQ177
2-channel standard kit in case
PicoScope 4225A
1x MI168 "S" hook
1x PA209 case
1x TA001 multimeter style test probe (black)
1x TA002 multimeter style test probe (red)
1x TA003 small alligator clip (black)
1x TA004 small alligator clip (red)
1x TA008 electronics acupuncture probes set
2x TA017 4 mm banana plug adaptor, shrouded to unshrouded (red)
1x TA034 breakout lead for ATC style fuses
1x TA035 extension lead for mini style fuses
1x TA037 HT extension test lead
1x TA106 earth wire for coil pack 45&ngsp;cm long
1x TA155 USB 3.0 cable (blue) 1.8 m
1x TA157 battery clip (red)
1x TA158 battery clip (black)
2x TA161 flexible back-pinning probe (black)
2x TA162 flexible back-pinning probe (red)
1x TA388 PicoBNC+ current measurement clamp 2000 A AC/DC
2x TA397 PicoBNC+ secundary ignition voltage clamp
1x TA398 PicoBNC+ (COP) ignition coil and signal probe
1x TA499 PicoBNC+ automotive 10:1 measurement lead and adaptor
1x TA404 PicoBNC+ 3 m measurement lead, permanent GND, 4 mm (blue)
1x TA405 PicoBNC+ 3 m measurement lead, permanent GND, 4 mm (red)
1x TA473 PicoBNC+ current measurement clamp 60 AC/DC
PQ225
2-channel standard kit in foam inlay
PicoScope 4225A
see PQ177, but in foam inlay instead of case
PQ178
4-channel standard kit in case
▸PicoScope 4425A
see ▸PicoScope 4425A
PQ226
4-channel standard kit in foam inlay
▸PicoScope 4425A
see ▸PicoScope 4425A
PQ179
4-channel Diesel kit in case
▸PicoScope 4425A
see ▸PicoScope 4425A
PQ227
4-channel Diesel kit in foam inlay
▸PicoScope 4425A
see ▸PicoScope 4425A
PQ180
4-channel advanced kit in case
▸PicoScope 4425A
see ▸PicoScope 4425A
PQ228
4-channel advanced kit in foam inlay
▸PicoScope 4425A
see ▸PicoScope 4425A
PQ194
4-channel master kit in case
▸PicoScope 4425A
see ▸PicoScope 4425A
PQ237
4-channel master kit in foam inlay
▸PicoScope 4425A
see ▸PicoScope 4425A
PQ195
4-channel motor and hydraulic kit in case
▸PicoScope 4425A
see ▸PicoScope 4425A
PQ238
4-channel motor and hydraulic kit in foam inlay
▸PicoScope 4425A
see ▸PicoScope 4425A
PQ222
4-channel vehicle assessor kit in case
▸PicoScope 4425A
see ▸PicoScope 4425A
PQ233
4-channel vehicle assessor kit in foam inlay
▸PicoScope 4425A
see ▸PicoScope 4425A
PQ196
4-channel electro and hybrid kit in case
▸PicoScope 4425A
see ▸PicoScope 4425A
PQ236
4-channel electro and hybrid kit in foam inlay
▸PicoScope 4425A
see ▸PicoScope 4425A
PQ184
8-channel professional kit in case
▸PicoScope 4823
see ▸PicoScope 4823
PQ202
8-channel hydraulic kit in case
▸PicoScope 4823
see ▸PicoScope 4823

starting € 2.742,95