PicoScope 4824 - High-Precision 8-Channel USB 3.0 Oscilloscope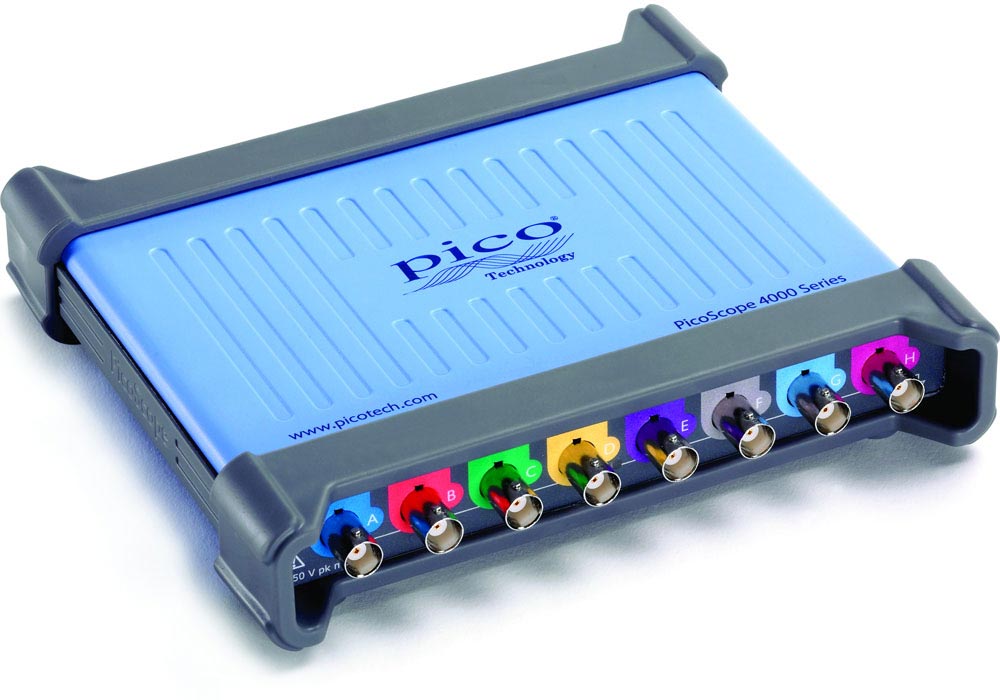 Benefits
8 oscilloscope channels in a compact USB PC module.
12 bit resolution.
For USB 3.0 SuperSpeed
High-Precision 8-Channel PC Oscilloscope with USB 3.0!
The PicoScope 4824 (PP916) is a low cost, portable solution for multi-input applications. With 8 high-resolution analog channels you can easily analyze audio, ultrasound, vibration, power, and timing of complex systems, and perform a wide range of precision measurement tasks on multiple inputs at the same time.
Although the scope has the same small footprint as Pico's existing 2- and 4-channel models, the BNC connectors still accept all common probes and accessories with ample spacing of 22 mm. Despite its compact size, there is no compromise on performance. With a high 12 bit vertical resolution, bandwidth of 20 MHz, 256 MS buffer memory, and a fast sampling rate of 80 MS/s, the PicoScope 4824 has the power and functionality to deliver accurate results. It also features deep memory to analyze multiple serial buses such as UART, I2C, SPI, CAN and LIN plus control and driver signals.
Pico PC oscilloscope with USB 3.0 super-speed.
8 high-precision 12 bit channels.
20 MHz bandwidth, 80 MS/s realtime sampling rate (1 to 4 channels in use; 40 MS/s, if 5 to 8 channels in use).
256 MS buffer size. Waveform buffer 10,000 segments.
±10 mV to ±50 V input ranges. 1% DC accuracy.
Integrated signal/arbitrary waveform generator (14 bit resolution, 80 MS/s update rate).
Powered from single USB 3.0 port or two USB 2.0 ports.
Supported by the PicoScope software for Windows, including: Complete oscilloscope and spectrum analyzer, automatic measurement, serial decoding of RS232/UART, SPI, I2C, CAN, LIN and FlexRay data, mask limit tests and more.
Free software updates from Pico Technology.
SDK/software development kit included with examples for various programming environements.
Model Overview
Included: USB oscilloscope, software and user manual (download), USB cable.
Software:
Windows: PicoScope for Windows. Software development kit (SDK). Windows 7, 8 or 10 recommended.
Mac OS X: PicoScope for Mac OS X. Software development kit (SDK). Mac OS X 10.9 or 10.10 recommended.
Linux: PicoScope for Linux. Software development kit (SDK). For information on supported Linux distributions, please ask.
The SDK example code shows how to interface to third-party software packages such as Microsoft Excel, LabVIEW and MathWorks MATLAB and programming languages like C, C#, C++, and Visual Basic .NET.