PicoVNA-106/108 Series VNA/Vector Network Analyzers up to 6/8.5GHz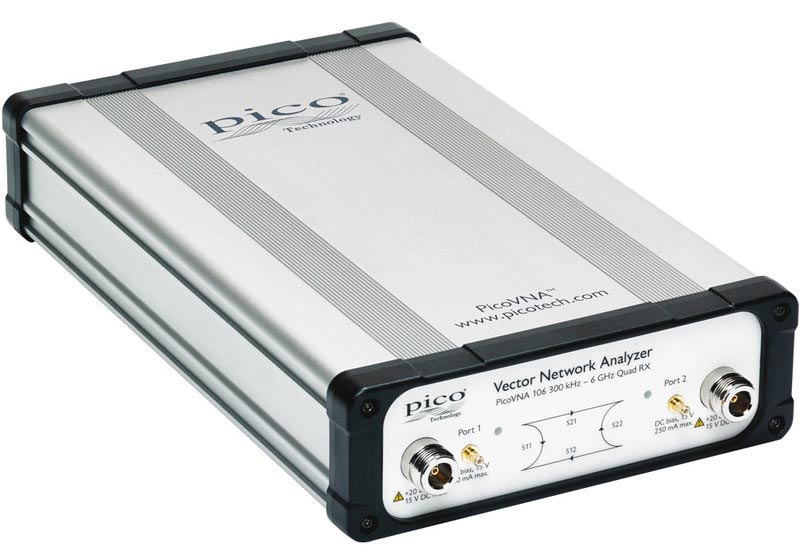 € 6.051,15
starting

€
5.860,75
close
Please fill in all fields.
Benefits
6 or 8.5 GHz vector network analyzer, up to 124 dB dynamic range.
High accuracy and high speed, up to 5500 dual-port S-parameters per second.
Affordable, compact, portable and rugged USB 2.0 modular device.
PicoVNA Series VNA/Vector Network Analyzers up to 6 or 8.5 GHz
Making vector network analysis accessible. The PicoVNA-106 and PicoVNA-108 are professional USB-controlled, laboratory grade vector network instruments of unprecedented performance, portability and affordability. Despite their small size and low cost, the instruments boast a "Quad-RX" four-receiver architecture to eliminate the uncorrectable errors, delays and fragility of three-receiver designs with internal transfer switches. The devices offer exceptional dynamic ranges of 124 dB (PicoVNA-108) or 118 dB (PicoVNA-108) and only 0.005 dB RMS trace noise at its maximum operating bandwidth of 140 kHz. The cost is so low that the devices could even be used as cost-effective high-dynamic-range scalar network analyzers! They are affordable in the classroom, small business and even amateur workshop, yet capable in the microwave expert's laboratory.
Professional and portable performance at low cost.
300 kHz to 6 or 8.5 GHz operation.
High speed, up to 5500 dual-port S-parameters per second; >10,000 S11 + S21 per second.
Quad RX four-receiver architecture for best accuracy.
Up to 124 dB dynamic range at 10 Hz bandwidth.
0.005 dB RMS trace noise at maximum bandwidth of 140 kHz.
Half-rack, small-footprint, lightweight package.
Reference plane offsetting and de-embedding.
Tabular and graphic print and save formats, including Touchstone.
Save on trigger for high-speed device profiling (PicoVNA-108)
Dual-frequency mixer measurements with VSWR correction (PicoVNA-108).
P1dB, AM to PM, and stand-alone signal generator utilities.
Guided 8/12-term and absolute power calibration processes.
6 calibration modes, including unknown through and connected DUT isolation.
Calibration and check standards with data guarantee confident measurements.
Model Overview
Model
PicoVNA-106 (PQ111)
PicoVNA-108 (PQ112)
Bandwidth
300 kHz...6 GHz
300 kHz...8.5 GHz
Measurement bandwidth
140 kHz, 70 kHz, 35 kHz, 15 kHz, 10 kHz, 5 kHz, 1 kHz, 500 Hz, 100 Hz, 50 Hz, 10 Hz
Dynamic range
118 dB (at 10 Hz)
124 dB (at 10 Hz)
Average displayed noise floor
Band
Typ.
Max.
Band
Typ.
Max.
0.3...10 MHz
–110 dB
-100 dB
0.3...1 MHz
-100 dB
-90 dB
10...4000 MHz
–118 dB
-108 dB
1...6 GHz
-124 dB
-110 dB
>4000 MHz
–110 dB
-100 dB
>6 GHz
-128 dB
-100 dB
Measuring parameters
S11, S21, S22, S12; P1dB (1 dB gain compression); AM-PM conversion factor (PM due to AM)
-
Mixer conversion loss, return loss, isolation and compression (PicoVNA-108 only)
Interface
USB 2.0
Included: PQ111 PicoVNA-106 or PQ112 PicoVNA-108, PS010 power supply, carry case, wrench for N, SMA, PC3.5, and K-type connectors, Pico blue USB 2.0 cable 1.8 m, USB flash drive with software and documents.
Software: PicoVNA software. Support for third party test software: Dynamic Link Library (DLL) as part of user interface software.