PicoVNA E-Cal 8.5GHz Automated Calibration Kits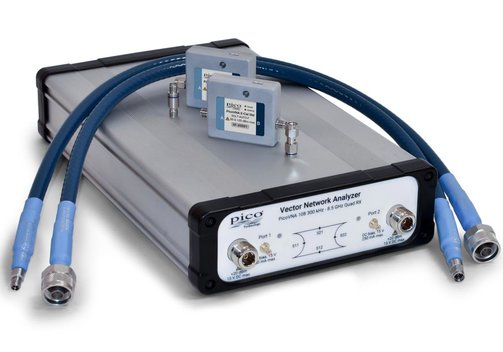 close
Please fill in all fields.
PicoVNA E-Cal 8.5 GHz Automated Calibration Kits
The E-Cal SOLT are automated calibration kits for the PicoVNA-108. The manual calibration process includes several torqued connect/disconnect operations and a manual loading of unique data files for each standard. With the E-Cal kits this process can be reduced to just one connection by internally switching its calibration standards. The calibration process becomes automatic and highly repeatable, with power, control and data read all managed by the PicoVNA software over a USB interface.
Model Overview
Model
TA519 SMA female
TA518 SMA male
TA520 SMA
Description
PicoVNA E-Cal 8.5 GHz automated calibration kits; ovened USB-controlled automated E-Cal SOLT
Ports
2
Bandwidth
300 kHz to 8.5 GHz
Standards
Short, open, load, through and separate characterized/polarized port adaptor
Impedance
50 Ω
Connector
SMA(f)
SMA(m)
SMA(f) and SMA(m)
Port input limit
+10 dBm operating, +20 dBm/1 Vpeak protection
More specs
Directivity 40 dB; source match 40 dB; load match 6 dB; reflection tracking 0.05 dB; transmission tracking 0.04 dB
Characterization
Full S-parameter 300 kHz to 8.5 GHz; SOLT comparison, characterization data records to internal memory/embedded and read from USB device
Control and power
Micro-USB 2.0
Dimensions (mm)
65 x 43 x 15; 60 g
Oven warming time
Typ. 45 s at 23°C

starting € 6.478,24
starting € 78,54