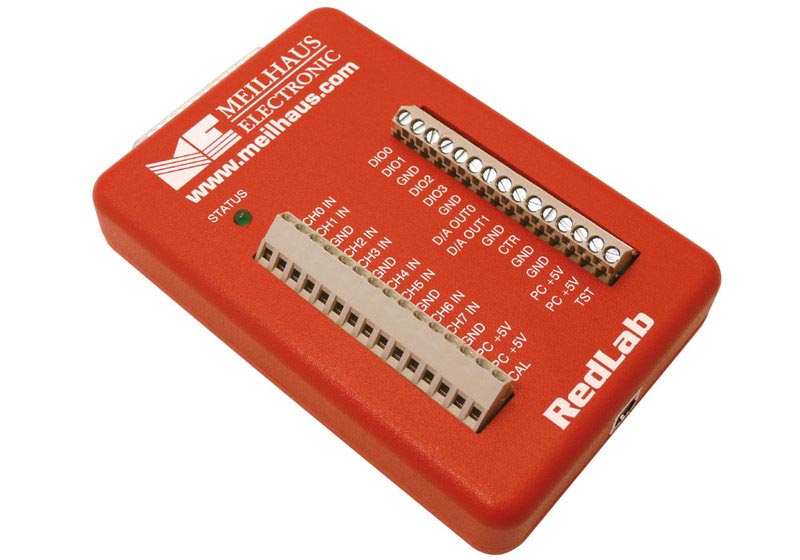 Obsolete. Recommended replacement product: RedLab 1208FS+
Benefits
Your Complete, Low-cost USB DAQ System.
One of the Best-selling USB-Minilabs.
Also Available as Bundle "RedPack" with Software ProfiLab-Expert.
Low-cost USB mini DAQ lab.
The RedLab 1008 is an inexpensive, complete USB mini DAQ lab in pocket size. It is the ideal alternative solution for simple DAQ and control applications with USB for a small budget. And it is a good solution vor education or experiment.
USB data acquisition.
8 single-ended or 4 differential analog inputs.
12 bit A/D conversion up to 1.2 kS/s, 8 kS/s up to 4000 values.
Input range differential: ±20 V, ±10 V, ±5 V, ±4 V, ±2.5 V, ±2.0 V, ±1.25 V, ±1.0 V, programmable.
2 analog outputs, 10 bit.
32 bit event counter.
24 digital I/O channels, expandable with relays or opto-isolation using the ME-UB series.
4 additional discrete digital I/O channels with screw terminals.
USB 1.1 compatible (compatibel with USB 2.0; Low-Speed).
All RedLab modules available as...
option "-modul": Module only or
option "-redpack": Bundle "RedPack" with the software ProfiLab-Expert.
Included: RedLab module, USB cable, basic-software (download). Bundle "RedPack" with additional software ProfiLab-Expert.
Basic-Software:
TracerDAQ (strip chart recorder and data logger).
Universal Library (programming language support for Windows).
InstaCAL utility (for easy installation, calibration and test).
Driver for LabVIEW.
MATLAB Data Acquisition Toolbox supports InstaCal version from 5.89 (analog inputs and outputs (no streaming) are supported. Digital inputs/outputs as well as triggered acquisition not supported).
Linux drivers.
Support for Visual Studio/Visual Studio .NET, examples for Visual C++, Visual C#, Visual Basic, and Visual Basic .NET.
Supported operating systems: Windows 10/8/7/Vista/XP, 32 and 64 bit.
Optional: TracerDAQ Pro, DAQami, ProfiLab-Expert.