ME-PowerHouse-M (ME-5-M) 2.0 1-Channel Analog Output Amplifier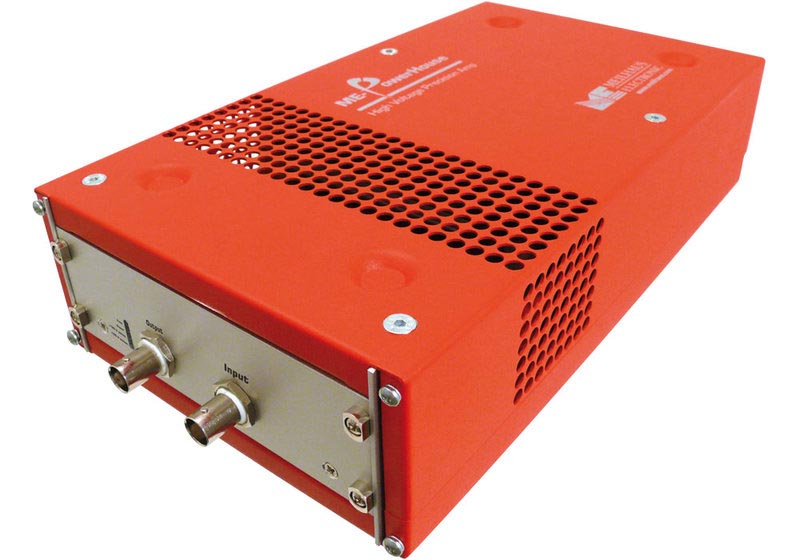 close
Please fill in all fields.
Benefits of the ME-5-M Analog Output Amplifier for D/A Boards and Waveform Generators
Amplifies ±10 V analog output to ±100 V.
For use with D/A PC-boards or common waveform generators - transparent, no additional software required.
Rugged metal chassis.
ME-PowerHouse-M (ME-5-M) 2.0 1-Channel Analog Output Amplifier
The "power station" for analog channels: This 1 channel analog amplifier brings power to your output channels. The card has BNC female connector inputs. The output signals are amplified from the ±10 V range to ±100 V.
Fully transparent 1 channel analog amplifier.
Simply connects in between the analog output of a PC-board/waveform generator and your application - no software modification required.
Input range max. ±10 V, amplifies to ±100 V, outpu range max. 100 mA.
Inputs and outputs standard BNC.
BNC connectors of inputs for combination with ME terminal blocks. Use with ME-4000, ME-6000 and various waveform generators.
In a robust metal housing (stackable with ME-Synapse and ME-Neuron).
Bandwidth max. 250 kHz at ±100 V, 500 kHz at ±50 V, 930 kHz at ±25 V, 1.1 MHz at ±20 V (Tschebyscheff characteristics).
Pluggable Phoenix connector for 9...27 V (nom. 24 V) supply power.
LEDs for power.
Over voltage protection (transient diodes).
Model Overview
Model
Configuration
Gain
Input
Output
ME-5 -M 2.0
ME-PowerHouse-M 2.0
Model in metal housing
x10
BNC, max. ±10 V
BNC, ±100 V, max. 100 mA
For use with...
...all analog outputs with a rnge of max. ±10 V, for example:
ME-FoXX ME-4600 series (models with D/A), most convenient with connector block ME AB-D78M/4660(-H) or 4000(-H).
ME-6000 series, most convenient with connector block ME AB-D78M/6000(-H).
Keysight waveform generators 33600 series, 33500 series, 33210A, 33220A, 33250A, U2761A.
Rigol waveform generators DG1022(A), DG1000Z series, DG4000 series, DG5000 series.
PeakTech waveformg generators P4055, P4060, P4065, P4105, P4115, P4125, P4165.
ETC waveform generator M531.
and others
Included: 1-channel analog power amplifier in rugged metal housing.

Meilhaus Electronic Original Product!