Rigol DG2000 SiFi II Waveform Generator Series up to 100MHz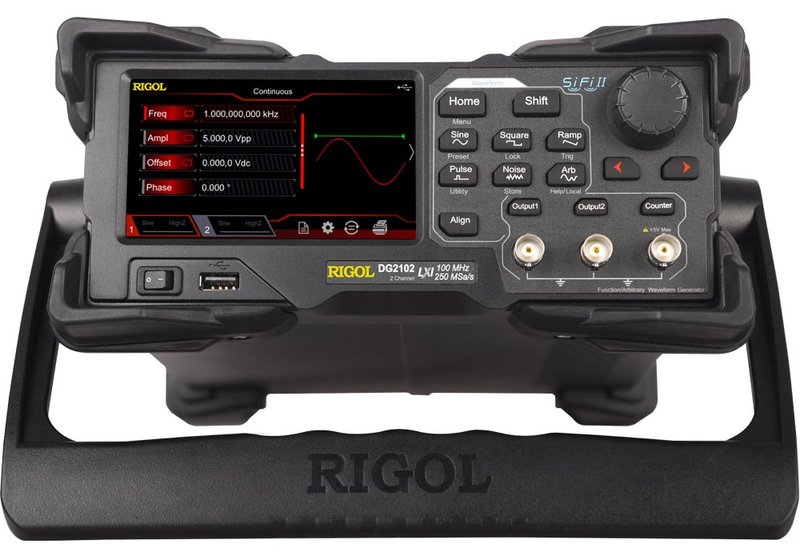 close
Please fill in all fields.
Benefits of the Rigol DG2052, DG2072, DG2102 Function and Arbitrary Signal Generators
2 independent waveform generator channels up to 50, 70, or 100 MHz (sine).
SiFi II technology: Point-by-point ARB signals with high accuracy, low distortion, low jitter.
Display with touch-screen. USB and Ethernet/LXI.
Rigol DG2000 SiFi II Waveform Generator Series up to 100 MHz
The Rigol DG2000 series ARB waveform generators is based on the unique SiFi II technology, The offer a high signal integrity, very low distortion and very low jitter for ARB signal generation. These generators don't use the common DDS method (direct digital synthesis). The DG2000 series' SiFi II generates waveforms point by point. The DG2000 models can reach maximum frequencies (sine) of 50, 70, or 100 MHz. The devices have versatile modulation functions, arbitrary waveform sequencing and an additional frequency counter. With their well structured front panel and a wide, clear touchscreen, the generators are very easy to use.
Unique SiFi II (Signal Fidelity II) technology:

Generates the arbitrary waveforms point by point.
Recovers the signal without distortion.
Sample rate accurate and adjustable.
Jitter of all the output waveforms (including sine, pulse, etc.) as low as 200 ps.

16 Mpts memory depth per channel for arbitrary waveforms.
Standard dual-channel with the same performance, equivalent to two independent signal sources.
High frequency stability: ±1 ppm; low phase noise: -105 dBc/Hz
Built-in high-order harmonic generator (at most 8-order harmonics).
Built-in 7 digits/s, 240 MHz bandwidth full featured frequency counter.
Up to 160 built-in arbitrary waveforms, covering the common signals in engineering application, medical electronics, auto electronics, math processing, and other various fields.
Sample rate up to 250 MS/s, vertical resolution 16 bit.
Arbitrary waveform sequence editing function available; arbitrary waveforms also can be generated through the PC software.
Various analog and digital modulation functions: AM, FM, PM, ASK, FSK, PSK, and PWM.
RS232, PRBS, and Dual-tone outputs supported.
Burst carrier frequency 2 mHz to 50, 70, or 100 MHz.
Standard waveform combine function, capable of outputting specified waveforms combined with the basic waveforms
Standard channel tracking function; when enabled, all the parameters of both channels are updated based on the user's configurations.
Standard interface: USB Host&Device and LAN (LXI Core 2011 Device).
USB-GPIB function supported (optional adaptor).
4.3" (approx. 10.9 cm) color TFT LCD touch screen.
Model Overview
Model
DG2052
DG2072
DG2102
Channels
2
2
2
Max. frequency (sine)
50 MHz
70 MHz
100 MHz
Sample rate
250 MS/s
250 MS/s
250 MS/s
Resolution
16 bit
16 bit
16 bit
Max. amplitude
10 VPP
10 VPP
10 VPP
Waveforms
Basic: Sine, square, ramp, pulse, noise, DC, dual-tone; advanced: PRBS, RS232 (9,600...230,400 Bd), sequence; harmonic (at most 8-order); built-in arbitrary: 160 types of waveforms, including sinc, exponential rise, exponential fall, ECG, Gauss, HaverSine, Lorentz, etc.
Arbitrary
1 µHz...15 MHz, 16 Mpts
1 µHz...20 MHz, 16 Mpts
1 µHz...20 MHz, 16 Mpts
Modulations
AM, FM, PM, ASK, FSK, PSK, PWM; burst, sweep
Additional functions
Arbitrary waveform sequencing (2 kS/s...60 MS/s); frequency counter, 7 digits, 1 µHz...240 MHz
Display
4.3" (approx. 10.9 cm) TFT LCD touchscreen
Interfaces
USB Host & Device, optional adaptor to GPIB, Ethernet/LXI
Dimensions (mm)
262 x 112 x 318; 3.2 kg
Included: DG 2052, 2072, or 2102, power cord, USB cable (CB-USBA-USBB-FF-150), BNC cable (CB-BNC-BNC-MM-100), quick guide, product warranty card.


starting € 284,41
starting € 712,81