Keysight N9320B RF Spectrum Analyzer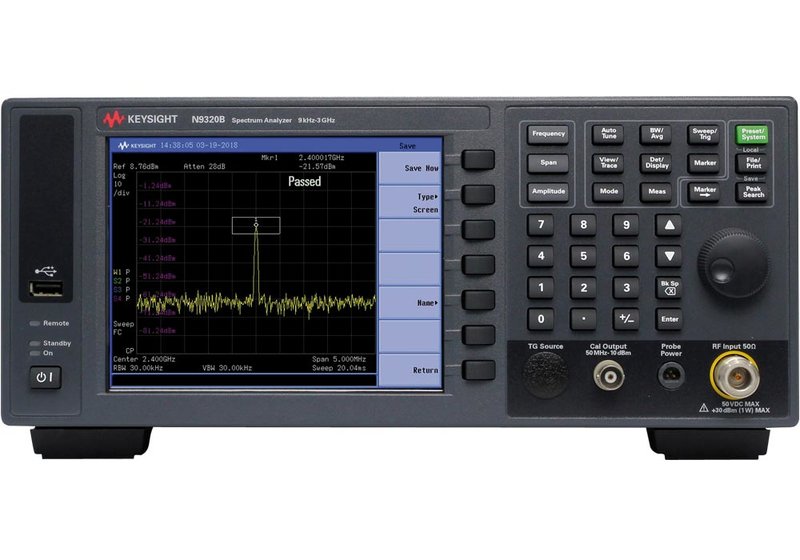 Benefits of the N9320B Spectrum Analyzer from 9 kHz up to 3 GHz
Affordable spectrum analyzer, frequency range 9 kHz to 3 GHz.
Large, clear display, intuitive operation.
USB and Ethernet/LAN standard.
Keysight N9320B RF Spectrum Analyzer
Regardless of whether your application is electronics' manufacture, bench repair, RF education or R&D projects, you need a spectrum analyzer that is equipped with the essential functionality, required performance at an affordable price. The N9320B is designed to be the right answer for you.
Professional performance for spectrum analysis from 9 kHz to 3 GHz.
Minimum non-zero span sweep time: <10 ms.
Resolving power RBW: 10 Hz to 1 MHz.
Sensitivity DANL: -130 dBm, -148 dBm with preamp on.
Overall amplitude accuracy: ±0.5 dB.
Robust measurement features for characterizing your product easily.
Built-in power measurements: Channel power, OBW, ACP, SEM and TOI.
Optional tracking generator and preamplifier.
Optional AM/FM, ASK/FSK demodulation capability.
Standard USB and LAN interface. .
Graphic user interface.
Included: Spectrum analyzer N 9320B, quick start guide, CD-ROM, USB cable (type A-B), N-BNC adaptor, BNC cable, power cord.
Note: The recommended calibration interval for these devices is 12 months. Call or send an E-Mail for more information on calibration!


Agilent's Electronic Measurement Group is now Keysight Technologies.