Rigol DS1052D und E 2-Channel DSO/MSO, 50MHz, 1GS/s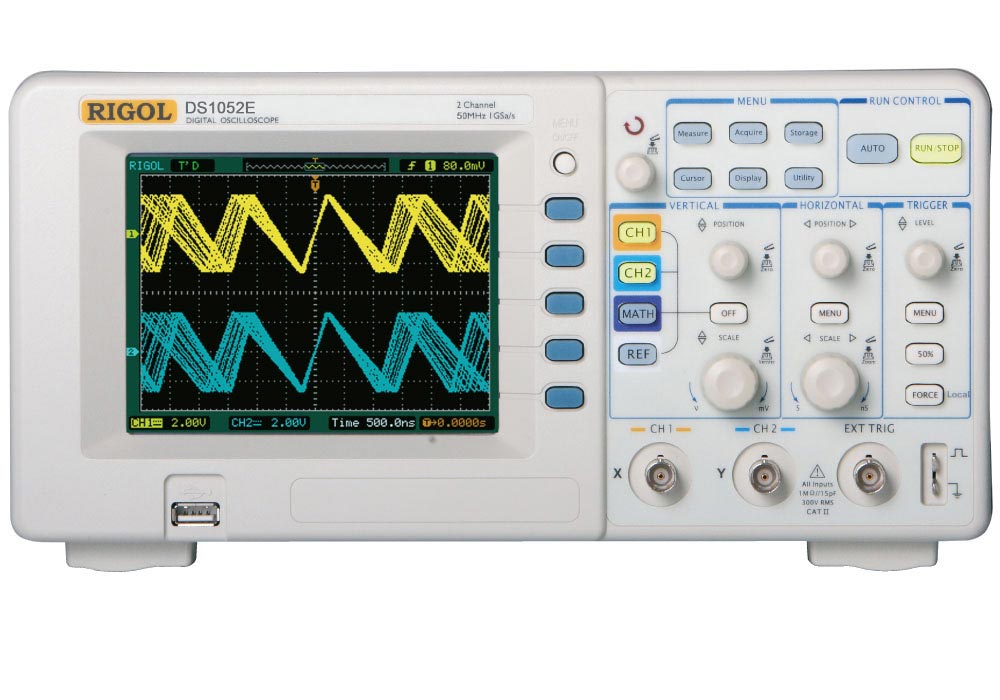 close
Please fill in all fields.
Versatile Low-cost Digital Storage or Mixed Signal Oscilloscopes, 2 Channels, 50 MHz Bandwidth
2 analog channels.
Bandwidth 50 MHz.
Sample rate up to 1 GS/s.
1 Mpts memory depth standard.
Versatile trigger types incl. edge, video, puls width and others.
Models "D": 16 logic channels, 200 MS/s sample rate per channel, 512 kpts record lenght per channel, trigger modes "pattern" and "duration".
USB host and device interface, USB flash drive supported. Direct printing with PictBridge compatible printers.
TFT LCD color displays.
Model Overview
Model
Bandwidth
Max. sample rate
Max. memory depth
Max. waveform capture rate
Channels
DS1052D - EOL**
50 MHz
1 GS/s (analog),
200 MS/s (logic)*
1 Mpts
-
2 +
16*
DS1052E
50 MHz
1 GS/s
1 Mpts
-
2
* 16 digital/logic channels.
** Replacement product: ▸Rigol MSO1074Z.
Included: DSO DS 1052E or MSO DS 1052 D, power cable, USB cable, 2 or 4 passive probes, quick start guide, software/user manual via free download. Mixed signal models series "D": Logic test cable kit, logic testing data cable, logic testing clips.
Software: All models: Ultrascope for DS1000xx series. Ultra Sigma software.