ClampMan Full Innovative Holding Fixture for PCBs and Component Modules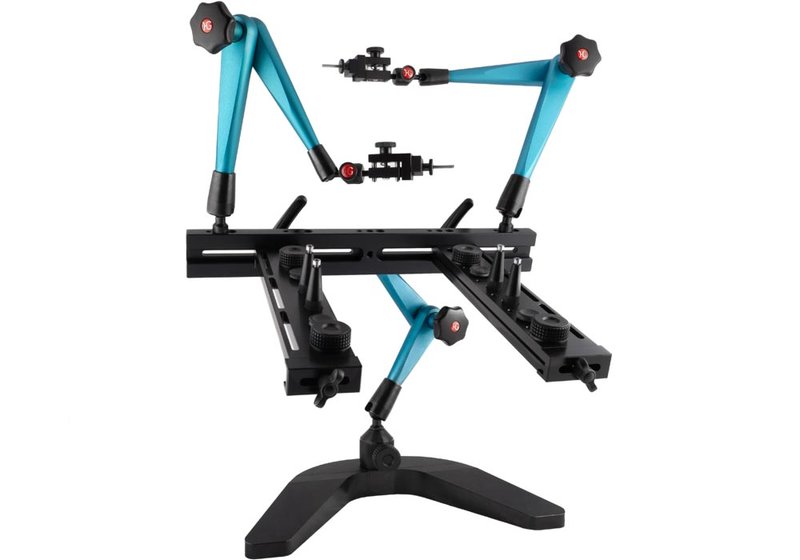 close
Please fill in all fields.
Benefitsof the ClampMan Fully Equipped Holding Fixture
The complete ClampMan: Solid holding fixture for PCBs for measurement/test, soldering, repair, thermal imaging.
Can also be used for energized PCBs.
Rugged design with hydraulic joint stands - multiple degrees of freedom.
"Additional Hands" - Innovative Holding Fixture for Printed Circuit Boards/Component Modules
Didn't you often wish to have at least two additional hands to hold PCBs or electronic modules for the process of measurement, test, soldering or documentary pictures with a thermal camera? ClampMan is the perfect solution. In the "Full" version with a solid, heavy foot, the basic stand arm, the complete fixture frame and two hydaulic arms with probe holders. And it's so easy to use: Open star grip knob at the hydraulic arm, bring arm into desired position, fix star grip knob - done!
Flexible design, use to hold various shapes and formats of PCBs in a high variety of different ways.
Designed to also clamp energized PCBs for safe measurements from both sides.
Just like "additional hands": Enables the fixing of PCBs in many different positions with multiple degrees of freedom - 2 hydraulic arms included to hold your probes!
High quality, rugged design with hydraulic joint stands and precise fixture.
Expand with additional fixtures according to your application.
For All Your Measurement Tasks...
...ClampMan Will Hold Your PCBs/DUTs!
Model Overview
| | |
| --- | --- |
| Model | ClampMan Full |
| Ordering code | CLM-1001 |
| Description | Complete ClampMan basic unit with 2 stand arms size 400 with probe holders and complete fixture-set |