Siglent SSA5000A Spectrum Analyzer 9kHz to 13.6 or 26.5GHz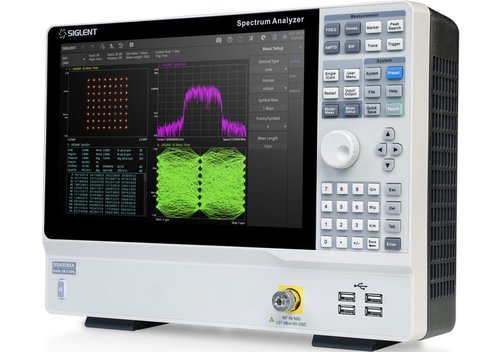 close
Please fill in all fields.
Promotion until 2023-12-31: Purchase a new SSA5000A analyzer SSA5083A or SSA5085A and get a free SSA5000-RTA1 and SSA5000-B40 upgrade licenses.
Benefits of the SSA5083A and SSA5085A GP and RT Spectrum Analyzers
Sophisticated spectrum analyzers up to 13.6 or 26.5 GHz.
Wide touch-screen display with multi-dimensions data displays.
Real-time (RT) spectrum analysis and advanced triggering.
Siglent SSA5000A Spectrum Analyzer 9 kHz to 13.6 or 26.5 GHz
The Siglent SSA5000A is a series of powerful and flexible spectrum analyzers for complex RF spectrum and signal analysis. The SSA5083A covers a frequency range of 9 kHz to 13.6 GHz and the SSA5085A from 9 kHz to 26.5 GHz. With a capability of real-time spectrum analysis, the analyzer can provide multi-dimensions data displays and advanced triggering. They are the ideal tool to solve modern RF spectrum challenges, such as channel power measurement, hopping frequency, conflict channel, or spectrum interference.
Spectrum analyzer frequency range from 9 kHz up to 13.6 GHz or 26.5 GHz.
-165 dBm/Hz DANL/displayed average noise level (typ.).
-105 dBc/Hz at 1 GHz, 10 kHz offset SSB phase noise (typ.).
25 MHz/optional 40 MHz analysis bandwidth.
100% POI 7.20 µs, dynamic range 60 dB, multi-view for density, spectrogram and PvT.
Channel power, ACPR, OBW, harmonic, TOI measurement etc.
Optional analog modulation analysis (AM, FM, PM) and vector digital modulation analysis (ASK, FSK, MSK, PSK, QAM).
12.1"/30.7 cm multi-touch screen, HDMI output.
Web browser remote control on PC and mobile terminals and file operation.
4x USB host on front panel for mouse, keyboard, storage.
Further interfaces: USB device, LAN/Ethernet and optional USB-to-GPIB.
2.92 mm male 50 Ω RF output, 2.92 mm F-F connector included.
Applications: Broadcast monitoring/evaluation, cellular site, IoT, WLAN and Bluetooth surveying, research and development, education, production, and maintenance.
Model Overview
Model
SSA5083A
SSA5085A
Frequency range
9 kHz...13.6 GHz
9 kHz...26.5 GHz
RBW/resolution bandwidth
1 Hz...10 MHz
DANL/displayed average noise level
-165 dBm/Hz (best)
SSB phase noise
-105 dBc/Hz
Analysis bandwidth
25 MHz, optional 40 MHz
Amplitude measurement range
Pre-amp. off: DANL approx. +10 dBm, 100 kHz...1 MHz; DANL approx. +23 dBm, 1 MHz...26.5 GHz
Pre-amplifier
Optional 9 kHz...13.6 GHz
Optional 9 kHz...26.5 GHz
Real-time spectrum analysis
Option SSA5000-RTA1, default bandwidth 25 MHz, with option SSA5000A-B40: 40 MHz; 100% POI minimum signal duration (full span, Kaiser window, frequency mask triggering at full amplitude accuracy) 7.20 µs; max. sample rate 51.2 MHz; FFT per second 150,000 (40 MHz analysis bandwidth); window: Kaiser (default), Hanning, Flattop, Gaussian, Blackman-Harris, Rectangular
Storage
Internal (eMMC) 4 GB, external (USB storage device) 32 GB
Interfaces
1x USB device, 4x USB host, LAN/Ethernet, optional USB-to-GPIB adaptor
Display
12.1"/30.7 cm TFT LCD, 1200x800, capacitive multi-touch screen; HDMI video output
Dimensions (mm)
378 x 284 x 126; 7.40 kg
Included: Spectrum analyzer Siglent SSA 5083A or 5085, quick start, USB cable, power cord, wireless mouse, 2.92F-2.92F-40A.
Options and Accessories Overview
| | |
| --- | --- |
| Model | Description |
| SSA5000-F5 | SSA5083A upgrade to SSA5085A |
| SSA5000-P3 | Pre-amplifier, 9 kHz...13.6 GHz |
| SSA5000-P5 | Pre-amplifier, 9 kHz...26.5 GHz |
| SSA5000-B40 | 40 MHz analysis bandwidth |
| SSA5000-RTA1 | Real-time spectrum analysis |
| SSA5000-AMK | Advanced measurement kit: Power measurement, non-linear measurement, spectrogram |
| 10M_OCXO_L | Precise OCXO reference source, factory installed |
| 2.92F-2.92F-40A | 2.92 mm(F) to 2.92 mm(F) adaptor, DC...40 GHz |
| N-N-18L | N(M)-N(M) cable, DC...18 GHz, 1 m |
| N-SMA-18L | N(M)-SMA(M) cable, 18 GHz, 1 m |
| SMA-SMA-18L | SMA(M)-SMA(M) cable, 18 GHz, 1 m |
| SMA-SMA-26L | SMA(M)-SMA(M) cable, 26.5 GHz, 1 m |
| SMAF-SMA-26L | SMA(F)-SMA(M) cable, 26.5 GHz, 1 m |
| USB-GPIB | USB-GPIB adaptor |
| SSA5000-AMA | Analog modulation analysis: AM, FM, PM |
| SSA5000-DMA | Digital modulation analysis: ASK, FSK, MSK, PSK, QAM |
| SSA5000-EMI | EMI measurement mode |
| SRF5030T | 300 kHz...3 GHz near field probe kit: 3 H-probes (20/10/5 mm), 1 E-probe (5 mm) |