PeakTech P1310 Digital Storage Oscilloscope, 2-Channel, 125MHz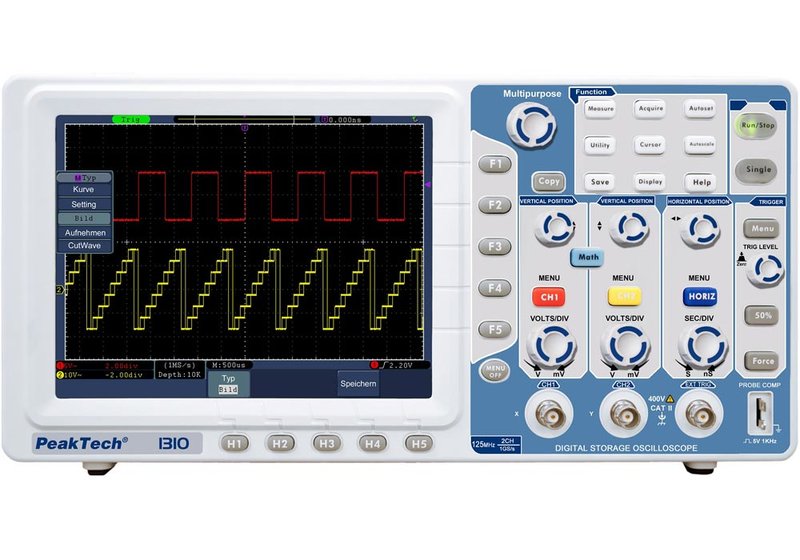 close
Please fill in all fields.
Benefits of the DSO P1310 Digital Storage Oscilloscope up to 1 GS/s
Low-cost digital storage oscilloscopes.
2 channels, bandwidth up to 125 MHz.
Sample rates up to 500 MS/s.
PeakTech P1310 Digital Storage Oscilloscopes, 2 Channels, up to 125 MHz
The PeakTech P1310 DSO (digital storage osczilloscopes) have a high-resolution color display, backlight, high bandwith and high sampling rate, and large internal memory. The are equipped with the interfaces USB, LAN, and VGA.
High-resolution TFT color display with 800 x 600 pixels and 65536 color.
USB port for real-time data transmission or reading of internal memory.
Saving of measured values and graphics directly onto the USB-stick.
VGA-output port for external monitor
Autoset and autoscale function for easy operation.
LAN connection for remote access via network.
Deep internal memory.
20 automatic measurement modes and FFT function.
PASS/FAIL function.
Safety: EN 61010-1; CAT II.
Model Overview
Model
▸P1305
P1310
Channels
2
Bandwidth
70 MHz
125 MHz
Sample rate
500 MS/s per channel (1 GS/s dual channel)
Resolution
8 bit
Memory depth
100,000 point/channel
Trigger types
Edge, video, pulse, slope
Display
8"/20 cm TFT
Automatic measurements
Peak-peak, cycle RMS, Vmax, Vmin, Vtop, Vbase, Vamp, overshoot, preshoot, rise time, fall time, +width, -width, +duty, -duty, delay A-zu-B (rising), delay A-zu-B (falling), frequency, period, mean
Interfaces
USB Host & Device, Ethernet/LAN, VGA
Dimensions (mm)
355 x 178 x 1180; 1.68 kg
Included: P 1310, 2x BNC cable, Pass/Fail adaptor, USB cable, software CD for Windows, power cable, 2x probes and manual.