PeakTech P133x Series Digital Storage Oscilloscopes, 2 Channels, up to 100MHz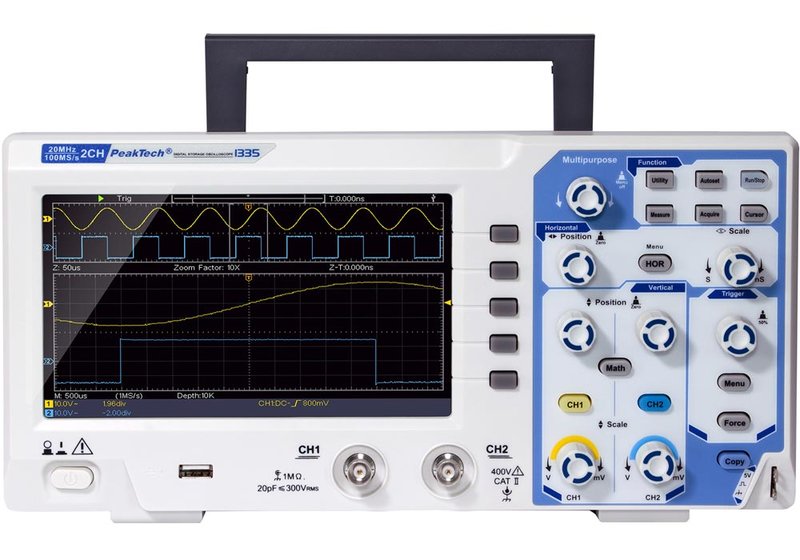 close
Please fill in all fields.
Benefit of the DSOs P1335, P1336, P1337 Oscilloscopes with USB
Low-cost digital storage oscilloscopes.
2 channels, bandwidth up to 100 MHz.
Sample rates up to 1 GS/s.
PeakTech P133x Series Digital Storage Oscilloscopes, 2 Channels, up to 100 MHz
2-channel digital storage oscilloscope of the latest generation for the education and professional sector with high-resolution TFT color display and comprehensive additional functions. The impressive price-performance ratio and the modern technology enables a high variety of applications with simple operation for every user from hobby, school and profession..
High-resolution TFT color display with 800 x 480 pixels; 17.5 cm/7".
USB port for real time data transmission or reading of internal.
Saving of measured values and graphics directly onto the USB-stick.
Handy and flat case design with carrying handle
Autoset function for easy operation
Internal memory of 10 kpoints per channel or 16 waveforms.
30 automatic measurement modes and FFT function.
Safety: EN 61010-1; CAT II.
Model Overview
Model
P1335
P1336
P1337
Channels
2
Bandwidth
20 MHz
50 MHz
100 MHz
Sample rate
100 MS/s
500 MS/s
1 GS/s
Resolution
8 bit
Memory depth
10,000 points/channel
Trigger types
Edge, video
Display
7"/17.5 cm TFT
Interfaces
USB Host & Device
Dimensions (mm)
300 x 150 x 70; 1.2 kg
Included: P 1335, 1336, or 1337, USB cable, software CD for Windows, power cable, 2 probes and manual.