PeakTech P134x Series Digital Storage Oscilloscopes, 4-Channel, up to 100MHz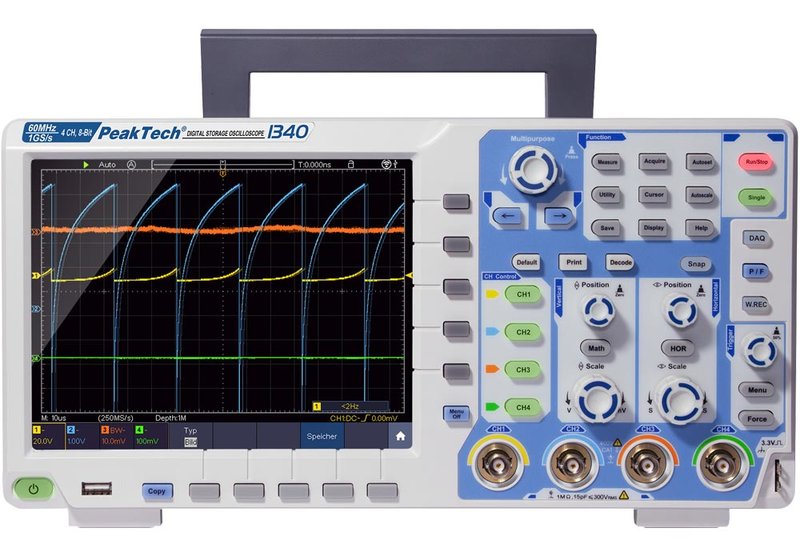 close
Please fill in all fields.
Benefits of the DSO P1340, P1341 Oscilloscopes with USB and Ethernet
Low-cost digital storage oscilloscopes.
4 channels, bandwidth up to 100 MHz, sample rates up to 1 GS/s.
USB and Ethernet/LAN.
PeakTech P134x Series Oscilloscopes, 4-Channel, up to 100 MHz
The 4-channel digital storage oscilloscopes of the PeakTech P134x and P137x series have a high resolutions TFT colour display and versatile features. The bandwidth goes up to 100 MHz. Standard interfaces are USB and Ethernet.
High resolution TFT colour display with 800 x 600 pixesl; 20 cm/8".
LAN and USB device port for real time data transmission.
Saving of measured values and graphics directly onto the USB-disk.
Handy and flat case design with carrying handle.
Autoset function for easy operation.
Record lenght of max. 40 mio. points.
Automatic measurement modes and FFT function.
Optional battery for off-grid operation.
Safety: EN 61010-1; CAT II.
Model Overview
Model
P1340
P1341
▸P1370
▸P1375
Channels
4
Bandwidth
60 MHz
100 MHz
60 MHz
100 MHz
Sample rate
1 GS/s (1 channel), 500 MS/s (2 channels), 250 MS/s (4 channels)
Resolution
8 bit
Memory depth
40,000,000 Punkte
Update rate
45,000 Wfms/s
Trigger types
Edge, video, pulse, slope
Edge, video, pulse, slope, CAN bus, RS232, I2C, SPI
Multimeter functions
-
DC and AC voltage, DC and AC current, resolution, capacity, diode
Waveform generator
-
2 channels, 25 MHz
Display
8"/20 cm TFT
8"/20 cm TF touch screen
Interface
USB Host & Device, Ethernet/LAN
USB Host & Device, Ethernet/LAN, WiFi
Dimensions (mm)
340 x 175 x 90; approx. 2.5 to 2.6 kg
Battery
Optional, model AKKU-6
Included: P 1340 or 1341, USB cable, software CD for Windows, power cable, 4 probes, BNC cable, carrying bag and manual.