Rigol DP813(A) Programmable DC Power Supply, 1 Channel, 200W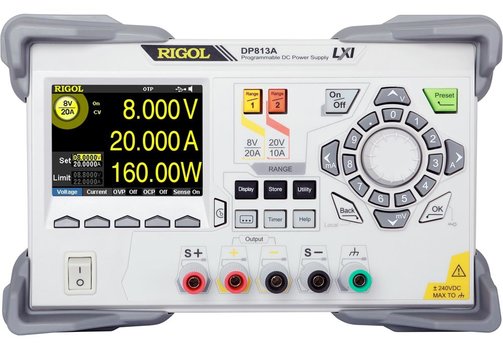 close
Please fill in all fields.
Reduced special price (compared to Rigol list price) for DP813 valid until 2023-12-31 or while stocks last!
Benefits of the Rigol DP813 Series 1-Channel 200-W Power Supplies
1-channel DC power supply, total power up to 200 W.
2 Ranges 8 V/20 A, 20 V/10 A; remote-sense.
Model with monochrome or colour TFT. USB, LAN, RS232.
Rigol DP813(A) Programmable DC Power Supply, 1 Channel, 200 W
The Rigol DP813(A) are lowcost power supplies for professional applications with 1 channel. The devices provide a total power of up to 200  W. Can be controlled from a PC via USB, Ethernet, RS232, or optional GPIB.
1 channel, 200 W.
Low ripple noise <350 µVRMS/2 mVpeak-peak.
Excellent linear and load regulation rate.
Fast transient response time: <50 µs.
Standard OVP/OCP/OTP* protection functions.
Standard timing functions.
Integrated voltage, current, and power measurement and waveform display.
Support output delay, analysis, monitoring, preset functions.
Independent control for each channel.
3.5" (8.9 cm) colour TFT display. "Non-A" versions monochrome with4 selectable colours (orange, green, blue, white).
Connectivity: USB Host & Device.
Standard for the models "A", optional for the other models: LAN, RS232, digital-I/O/trigger In/Out.
Optional USB-to-GPIB.
Model Overview
Model
Channels
Power
Output data
OVP/OCP
Connectivity, display
DP813A
1
200 W
Range 1: 0...8 V/0...20 A
Range 2: 0...20 V/0..010 A
Range 1: 1 mV...8,8 V/1 mA...22 A
Rnge 2: 1 mV...22 V/1 mA...11 A
USB host & device, LAN, RS232, digital-I/O/trigger In/Out.
Colour TFT
DP832
USB host & device, optional: LAN, RS232, digital-I/O/trigger In/Out.
Monochrome TFT
* * Overvoltage, overcurrent, overtemperature protection.
Included: Power supply DP 813, power cable, USB cable, software/user manual via download.