Rigol DSA815(-TG) Spectrum Analyzer, 9kHz...1.5GHz
close
Please fill in all fields.
Benfits of the Rigol DSA815 Low-cost Spectrum Analyzer for Tight Budgets and Pre-compliance Testing
High performance at a low price.
Spectrum analyzer with frequency range up to 1.5 GHz.
USB Host and Device, Ethernet/LXI.
Rigol DSA815(-TG) Spectrum Analyzer, 9 kHz...1.5 GHz
Rigol's series DSA800 spectrum analyzers redefines the product category by setting new standards for performance and price, especially the "small" model DSA815. They features a unique widescreen display, compact design and easy-to-use interface and operations, making it ideal for benchtop or field apps in RF and wireless testing and production. The spectrum analyzers offers the ability to measure smaller signals using the digital Rigol IF filter, which allows for smaller bandwidth settings and reduces displayed noise levels. For design and development implementing Wi-Fi, Bluetooth, and other RF standards, the low SSB Phase Noise empowers engineers to more accurately analyze modulations and noise surrounding their signals of interest. This becomes important for debugging and immunity testing of transceiver systems.
All-Digital IF Technology.
9 kHz to 1.5 GHz frequency range.
Typical DANL (Displayed Average Noise Level, normalized to 1 Hz): -135 dBm.
Phase noise at 10 kHz Offset: -80 dBc/Hz.
Total amplitude uncertainty <1.5 dB.
Minimum Resolution Bandwidth (RBW) 10 Hz.
Tracking generator (model -TG).
Pre-amplifier standard.
Options:

Advanced measurement functions.
EMI filter & quasi-peak detector kit.
PC software.
RF TX/RX training kit.
RF accessories (cable, adaptor, attenuator, bridge...).

Ethernet/LAN (LXI), USB Host & Device, optional GPIB.
8"/20.3 cm WVGA (800x480) display.
Compact size, light weight design.
Model Overview
Model
Frequency range
RBW Resolution bandwidth (-3 dB)
SSB phase noise
DANL (Displayed Average Noise Level, typ.)
Pre-Amp. (PA)
DSA815(-TG*)
9 kHz...1.5 GHz
100 Hz...1 MHz,
in 1-3-10 sequence
<-80 dBc/Hz at 10 kHz carrier offset,
<-100 dBc/Hz at 100 kHz carrier offset
PA off:
100 kHz...1 MHz: <-110 dBm.
1 MHz...1.5 GHz: <-115 dBm.
PA on:
100 kHz...1 MHz: <-130 dBm.
1 MHz...1.5 GHz: <-135 dBm.
Standard, 20 dB
* Versions -TG with tracking generator installed.
Included: Spectrum analyzer DSA 815 or DSA 815-TG, power cable, quick start guide, software/user manual via free download.
Software: UltraSigma software, IVI driver, UltraSpectrum software

---
Features and More

Distinguish the two nearby signals clearly with the 10 Hz RBW (resolution bandwidth. Unique widescreen display, friendly interface and easy-to-use operations.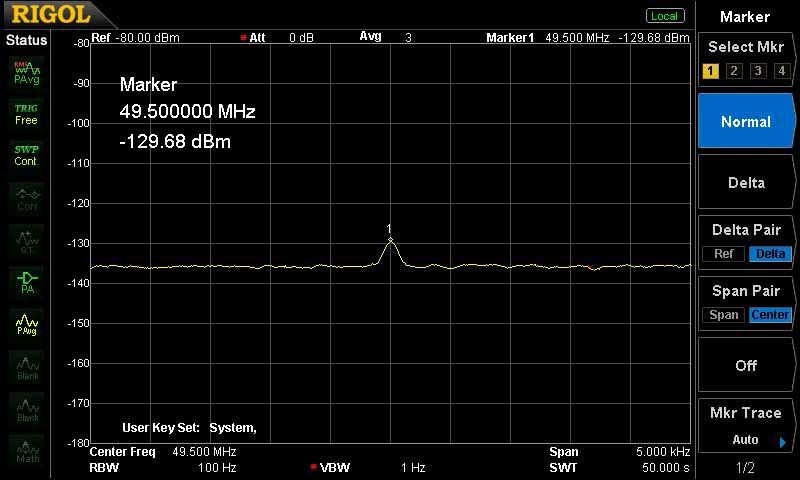 Measure lower than -130dBm signal with the standard Preamplifier.>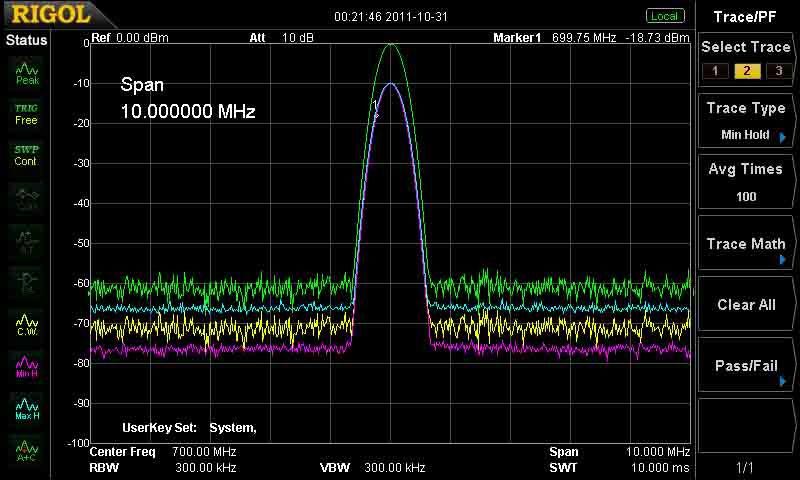 Compare the spectrums when change the RBW settings with different color trace.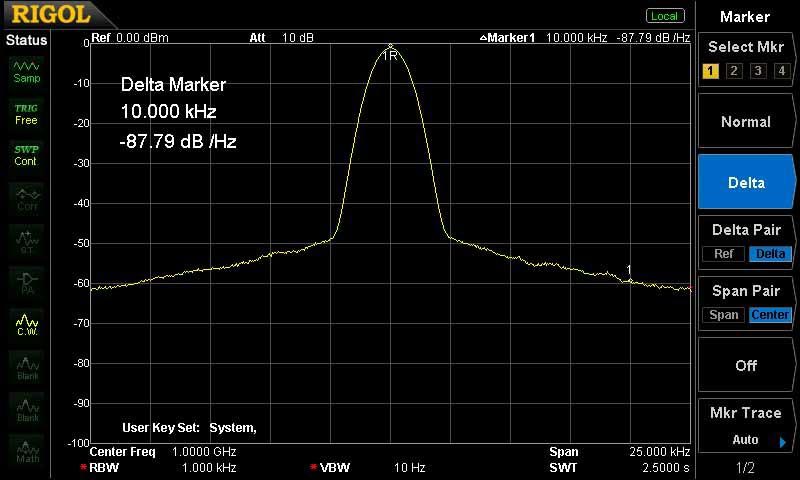 -80 dBc/Hz at 10 kHz offset phase noise.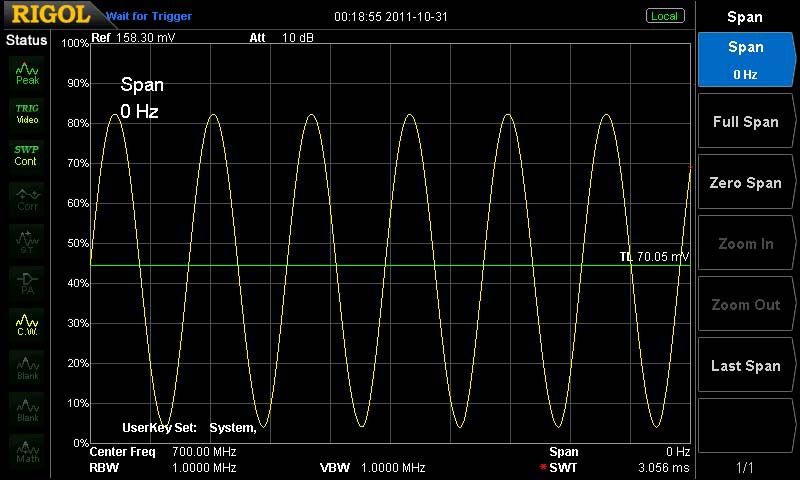 Zero span to demodulate the AM signal.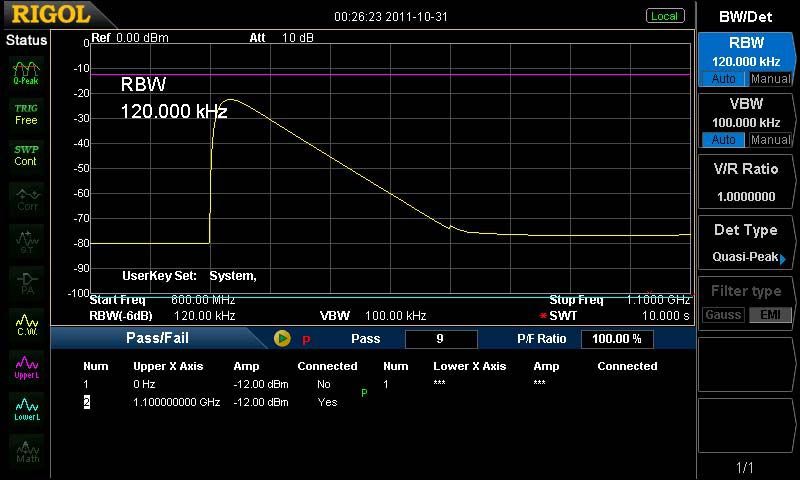 EMI kit (EMI filter & quasi-peak & pass/fail).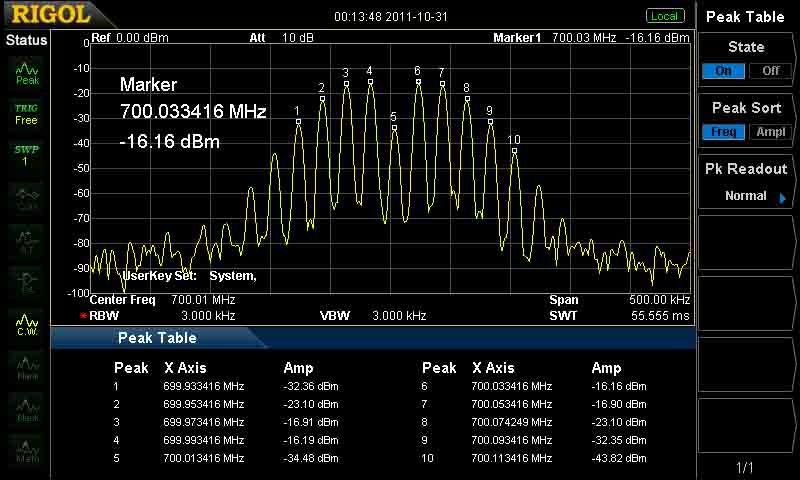 Readout the spectrum peak values with the peak table function.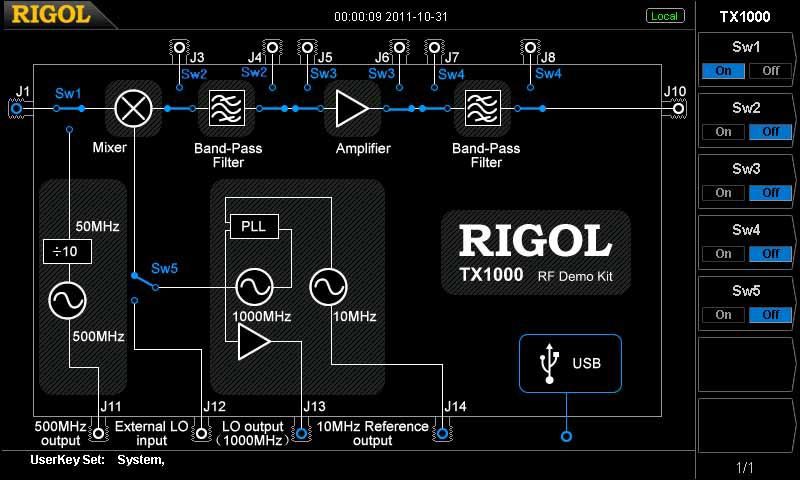 The GUI to control the RF demo kit (transmitter) directly.
---