Rigol DP811(A) Programmable DC Power Supply, 1 Channel, 200W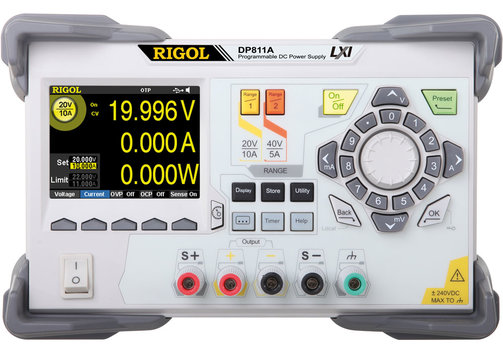 close
Please fill in all fields.
Benefits of the Rigol DP811 Series 1-Channel 200-W Power Supplies
1-channel DC power supply, total power up to 200 W.
2 ranges 20 V/10 A, 40 V/5 A; remote sense.
Model with monochrome or colour TFT. USB, LAN, RS232.
Rigol DP811(A) Programmable DC Power Supply, 1 Channel, 200W
The Rigol DP811(A) power supplies combine the ability to source, analyze, and coordinate over time in a powerful package. The linear power supplies have 1 output and up to 200 W in total. With one channel isolated users can reconfigure instruments into any number of systems or applications. Built in V, A, and W measurements make power monitoring easy, but additional wave tracking, timing, and analysis features means there are even more ways to use the supplies. New digital triggering between instruments also makes it possible to reliably combine and connect supplies together. Intuitive to use for everything from education labs to the R&D bench, the DP800 family of power supplies provide incredible value for any application.
1 channel, 200 W.
Low ripple noise <350 µVeff/2 mVpp.
Excellent linear regulation rate and load regulation rate.
Fast transient response time: <50 µs.
OVP/OCP/OTP* protection functions.
Standard timing functions.
Built in V, A, W measurements and waveform display.
Support for output delay, analysis, monitor, and preset functions.
Independent control for each channel.
3.5" (8.9 cm) colour TFT display. "Non-A" versions monochrome with 4 selectable colours (orange, green, blue, white).
Connectivity: USB host & device.
Models "A" standard, and optional for "non-A" models: LAN, RS232, digital-I/O/trigger in/out.
Optional USB-to-GPIB.
Model Overview
Model
Channels
Power
Output specs
OVP/OCP*
Connectivity
DP811A
1
200 W
0...20 V/0...10 A low-range,
0...40 V/0...5 A high-range,
remote sense

Low-range: 1 mV...22 V/0.1 mA...11 A
High-range 1 mV...44 V/0.1 mA...5.5 A

USB Host & Device, LAN, RS232, digital-I/O/trigger In/Out.
Colour TFT
DP811
USB Host & Device, optional: LAN, RS232, digital-I/O/trigger In/Out.
Monochrome TFT
* Overvoltage, overcurrent, overtemperature protection.
Included: Power supply DP 811, power cable, USB cable, software/user manual via free download.